We Have a Lot of Happy Customers
We Go Above and Beyond
We go above and beyond for our cutomers and it shows in their reviews. Below are just a few of our glowing testimonals.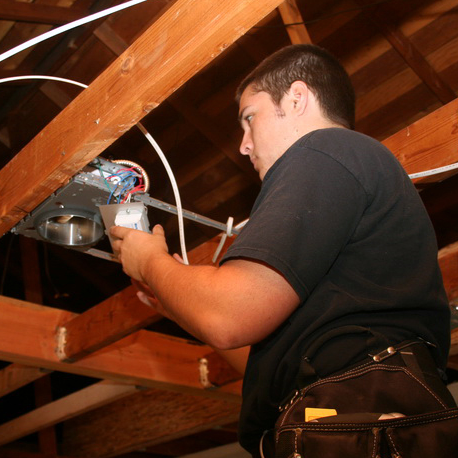 Simple and Stress-free
We get the job done right the first time. We have over 30 years of experience making our client's lives simple and stress-free.
Blair
Toronto
---
Paul came and fixed the short circuit, installed the switch and new ceiling fixture. I didn't wait long for an appointment and the visit took less than an hour. Good service!
Thomas
Toronto
---
Paul was very professional from the get go and provided with a full quote in writing when most contractor just say a number verbally. He went above and beyond for the repair. As a property manager he will be my first call next time I need an electrician!
Andy
Toronto
---
Paul and his assistant came right on time and did an excellent job. They are polite, respectful and most importantly very professional. They quickly did some testing and wasted no time on finding the problem. Then they proceeded by explaining very thoroughly what the problem was and how they were going to fix it, which again they got right to it and the problem was no longer. They've answered every question and request I had. Very helpful advice. Definitely recommend and will hire them again in the future. Professional. Clean. Reasonable pricing. Quick and efficient. Excellent team. Very nice people
Julie
Toronto
---
I had some problems with the breakers in the house I just moved into, Paul was able to isolate and fix the issues and make suggestions to update our panel and some circuits to better suit our electrical needs. All of his work was done efficiently and professionally.
Sherry
Mississauga
---
My original electrician was injured and had to cancel last minute. I was mid-renovation and needed someone on short notice. I had already arranged 4 quotes from various resources with excessive prices, if they even showed up for their appointments to quote, or submitted an estimate. In desperation, I discovered Homestars and posted the details of the project, including my timeline. New Phase Electrical responded and was on site in only a few days to assess the job and submit a quote which was very reasonable, and didn't try to rob me blind in my dire circumstances. Paul and his apprentice from New Phase arrived punctually on the agreed day and wasted no time. The other trades on the job site were impressed by the efficiency and work effort of this electrical contractor, and the work was completed in excellent time. The work passed inspection with no issues, and the invoice was in line with the estimate originally provided. As one who has undertaken multiple renovations over the past 40 years, I was wonderfully impressed with Paul and New Phase, and can heartily recommend them to one and all.
Nora Klavins, Assistant Property Manager
Cogir Management Corporation
---
"New Phase Electrical Services has been our preferred electrical contractor at this commercial, 10-story building for almost 20 years, providing all manner of repairs throughout the building and in the exterior and parking areas.  Paul Payette and his staff are knowledgeable, polite and a pleasure to deal with. More importantly they are highly efficient, dependable and hard working, and have accommodated our needs during business hours as well as after hours and on weekends.  All work is done in a professional, tidy manner to meet all safety and code requirements. We have no hesitation in recommending their services."
Kevin Patterson, Manager
CAA South Central Ontario
---
"This letter will serve to confirm CAA Facilities & Corporate Services Department retains Paul Payette of New Phase Electric for our electrical repairs, installations and modifications. The service we receive from Paul is always excellent and on time. The pricing is reasonable as well…"
Special Projects Coordinator
Autograph Trim
---
"We have utilised New Phase Electrical extensively throughout the building for many years. New Phase has successfully completed the following projects for Autograph Trim: power supply to new equipment installations, transformer installations, lighting solutions, and basic electrical trouble shooting. We rely on Paul to work on our most critical printing/production systems. We recommend New Phase Electrical for any type of electrical project and find Paul to be a valuable outside resource to Autograph Trim's team."